WOULD YOU TAKE YOUR BUSINESS TO THE NEXT LEVEL?
WOULD YOU LIKE TO BE INSPIRED IN A CREATIVE ENVIRONMENT?
WORK OR STUDY COMFORTABLY AT OUR COWORKING OFFICE
Coworking, also known as a community office, is a place where anyone can come to work, study, regardless of their occupation or form of activity. Looser than a traditional office, but more serious than a cafe.
Its advantage is that it has everything you need to work effectively; you will find everything from the professional tools needed for your project to meeting rooms. We provide you with a flexible, comfortable environment where you can be as productive as possible.
Members of experts or organizations from a variety of fields form a kind of community within our coworking. This way, we could exchange experiences and build different relationships with each other. This is facilitated by our community events - professional and non-professional - so that the coworkers working here can be even richer in terms of knowledge sharing, personal skills development and networking.
APPLICATION FOR A FREE TRIAL DAY
WOULD YOU LIKE TO TRY OUT A DAY AT HUB55?
Let's make an appointment!
HUB55 is a unique hybrid of a community office, startup center and private offices, meeting rooms, function rooms, with a cafe and bar inside our complex. HUB55 is a vibrant community of innovators and creative minds in the neighborhood of Corvin. We believe in the value of creating a place where community spirit, knowledge sharing and co-operative encounters can take place. Within our Hub55Pass coworking ticket system, you can also find a type that suits your style and needs. We are waiting for you at Üllői út 55!
Here you get help, tips and ideas to your problem. 
Here you get help, tips and ideas to your problem. 
Thrive in our space and find your focus.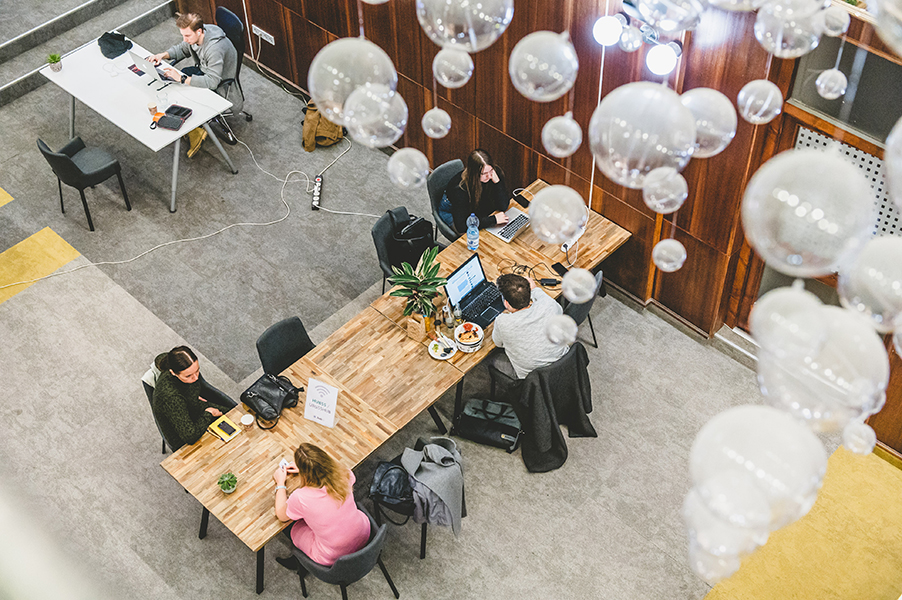 FOR PRODUCTIVITY AND A GOOD COMMUNITY
Coworking office with fully equipped, flexible and fixed workstations 
RAISE THE STANDARD OF YOUR EVENTS TO THE NEXT LEVEL!
Modern conference and workshop rooms for up to 40-100 people.
Private offices for hire, equipped as required for teams. 
30 m2 office rental with 6-8 workstations
70 m2 office rental with 20-25 workstations
ENJOY THE TASTE OF A WELL-DESERVED REWARD.
There's an on-site bar and café, with refreshing drinks and delicious cocktails. 
A real business community
0-24 office use in the heart of the city
Professional technical background and support
Animal-friendly environment
Bicycle storage inside the building
Pizza Friday / HUB55 breakfast
REQUEST ONE OF OUR SERVICES
ASK FOR AN OFFER TO RENT!
Contact us at one of the contact details provided or send us a message.
FIX HUBPASS MONTHLY MEMBERSHIP
HUBPASS MONTHLY FLEX MEMBERSHIP
REQUEST A QUOTE FOR THE PURCHASE OF A MULTI-PERSON TICKET OR PASS
Would only 3-4 people from your larger team be in the coworking space at a time?
Share the non-denominated passes among yourselves and buy as many passes as you would if you were working from a FIX community office!
Contact us to buy.
You're entering Hub55 and you're already guaranteed a productive day. And meanwhile there's good company. Around the coffee machine, a brainstorming develops almost every day where you can then catch the "I save the world now" feeling. Or at least gives a boost to your work. Come and try it!
Perfect community office: Comfortable, quiet place, good company and delicious coffee. Everything you need for the productive work.
One of the best coworking office in town. The community is spacious, bright and very good. Great for both focused work and relationship building!
Spacious, bright and well-equipped community office, smiling people and guaranteed productivity. 🙌 These come to mind first when thinking of the place. Yeah, and Pizza Day 😃
Office vibe, but still homely and relaxed. I love their community programs, like the weekly joint pizza day. Since I have been working here, I am much more satisfied than in a home office.
There's really community here - all you have to do is stop by the coffee machine for a few minutes and the inspiring ideas are already coming. In addition, spacious interiors and natural light are available to help with focused work. Instead of hesitating, I wholeheartedly recommend trying it...
I can work much more focused here because I don't get distracted by things to do at home. And when I take a break, there is always someone to talk to. I like that it is spacious and bright and that I can bring my dog in.
FREQUENTLY ASKED QUESTIONS
DO YOU HAVE ANY MORE QUESTIONS?
We've gathered some more useful information. 
hétfő - péntek : 9:00-17:00 (ügyfélfogadási idő)
1091 Budapest, Üllői út 55.